CHRISTIAN PYLE – Nothing Left To Burn

Tuesday, 20 July 2010 (Prawn & Spanner)
Genuine and heartfelt album from musical skeleton key
Byron-based singer-songwriter
Christian Pyle
has released his solo debut. Solo being the operative word as Pyle wrote, composed and performed everything on the album. Pyle's artistic influence is untainted throughout and this creates a cohesiveness and honesty in the tracks.
Pyle's baritone vocals are best at their most simple moments in
Wait Son
and
Trees & Stone
. The tracks are a blend of melancholy acoustic folk and electro instrumentals with caustically sincere lyrics. Apart from being a one-man-band Pyle also recorded and produced the album, giving it a very personal and homegrown feeling that you don't get from big studio releases.
CHELSEA HEANEY
---

Christian Pyle – Nothing Left to Burn
Ghost Mountain – Art Without Audience

Rhythms Magazine July 2010
It's probably unfair to Northern Rivers muso Christian Pyle to review these records together, but they do represent two concurrent chapters in Pyle's musical output.
Nothing Left To Burn
is a solo album in the truest sense of the word. All songs by Christian Pyle. All performances by Christian Pyle. Produced, recorded and mixed by Christian Pyle. The only other person to crack a mention is engineer Michael Worthington. By all accounts it's been a labour of love, taking Pyle five years of scrounging time away from other projects like
Ghost Mountain
and
Acre
and recording other people's music, as well as fighting off cancer! The album is epic in tone and scope as you'd expect, given all that. It's a little dark but also beautiful and intimate; a nocturnal ambience that reminds me of
The Church
a little.

Pyle also plays guitar (etc) in Byron area band Ghost Mountain. He also contributes a good whack of the band's material and co-sings some of it. A busy man! Ghost Mountain is fronted by singer Sal Yates, and their sound is equally dark and airy, opening track setting up a swirling conversation of vaocals and instruments that swells, breaks and subsides like a wave. Yates has an authorative voice, lending real weight to this impressive album.
Martin Jones
---
Christian Pyle - Nothing Left to Burn
4 July 2010 by
Max Easton
|
www.soulshine.com.au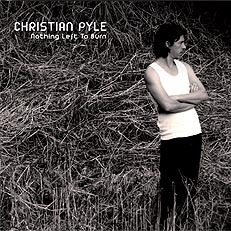 Hailing from the New South Wales North Coast, talented multi-instrumentalist Christian Pyle has released his first modern produced solo album 'Nothing Left to Burn.' Having been a key part of his own bands Ghost Mountain and Acre, this solo album is a fantastic side-venture into folk territory.
You'd be forgiven for not having heard of Christian Pyle. Nestled up on his own property in the hills beyond Byron Bay and recording the entirety of this album solo, it springs to mind the mythical tale surrounding Bon Iver's reclusive debut album, 'For Emma, Forever Ago'; but this isn't the introspective soul-searcher that Bon Iver recorded. 'Nothing Left to Burn' is a personal album of family, memory and love lost, all hanging as a backdrop to rollicking folk-rock remiscient of Elliot Smith, Iron & Wine or Conor Oberst. So like I said, you could have been forgiven for not knowing who this guy was when reading the title of this review, but that's implying a pretty big emphasis on the past tense.
With 'Nothing Left to Burn,' Christian Pyle has delivered a great piece of work that by all rights, will stick him firmly blipping away on the radar. From the upbeat pop of 'Ray of Your Sunshine' to the incredible down-tempo folk piece 'Wait Son,' he's proved himself a master of all the styles he has to offer. As a songwriter, he has the ability to create lyrical themes which entirely complement the sounds he's created. The laidback philosophy present in 'Wait Son' ("we're just a borrowed coat trying to fit a stranger's shoulders, we're just the branches of a family...it's just the way things go") runs alongside lazy guitar lines and brushed drums while the reverb heavy ballad of moving on 'At A Loss' plays. At times, it's these touches of sound evoking a suitable mood that really makes this album stand out.
Thematically, the album takes a snapshot of Pyle's life, with the obligatory songs of heartbreak and heartache ("I'd fill out the forms until the cows ate my home, I'd pawn-broke my soul just to call you my own"), mingling with a 'Like a Rolling Stone'-esque fuck you ("the puppets don't like it when you don't provide the strings") and a couple of fantastic familial ventures on 'Wait, Son' and 'School Without Dogs.' In fact, 'School Without Dogs' stands as the most poetic and interesting song on the album, an ode to his family and life growing up. From filling up "hessian bags with horse shit" with his brother, to his sister, who was "always playing Neil Young", and through to watching his mum's hands playing Chopin on piano, the album is at its most personal with this track and - at least lyrically - at its best.
The gorgeous, guitar-driven 'Sun Come Up Each Morning' and the swaying 'Sometime in June' are also great highlights, in contrast with 'Spaceman's Funeral,' a three minute electronic driven instrumental which is completely out of place and does little but weaken an album that is truly special in its entirety. It seems like more of a demonstration of Pyle's wide-reaching abilities as a multi-instrumentalist than a worthy addition to the album, but leave that to the side, and it's a really great piece of work.
Christian Pyle's big achievement with this album isn't the fact that he recorded all the album's instruments himself, but the idea that this album comes about after taking some time off from both his other bands Acre and Ghost Mountain to dabble around with this as a side project. If a solo aside can be this good, then that absolutely screams of his qualities as a songwriter. It's an album that's come out of some very trying personal times for him with his own bout of cancer and the loss of father hitting in quick succession, so it's clearly come from a place deep in his heart.
'Nothing Left to Burn' is a triumph for Christian Pyle. Whether you've heard of him or his band's before is irrelevant. The fact is that now, he's cemented himself in a place of reputability and high quality. So have you got an excuse to keep living in Christian Pyle ignorance? Of course you do. But this is an album that doesn't deserve to be ignored.
'Nothing Left to Burn' by Christian Pyle is out now through Vitamin Records.
---
The Byron Shire Echo Cover Story
Tuesday June 8, 2010 by
Mandy Nolan
Mick Daley calls Christian Pyle: 'the North Coast's most respected, irreverent and unconventional songwriter and producer.' It takes another musician to truly appreciate the genius of a man who professes not to compose music himself, but to 'pilfer' it from his instruments. Pyle releases his new solo album Nothing Left to Burn at the Byron Bay Brewery Buddha Bar on Saturday.
The album is an autobiographical electro-rock oddity that sings up the dirt road that leads to his home (Wait Son), spurned relationships (Ray of Your
Sunshine) and a childhood somewhere near Moreton Bay where he made cash by selling horseshit (School without Dogs).
It's the clapped out old piano that I love the most though, it lurches through tracks like an ageing showgirl, still hitting the right notes, but only just.
'I wrote most of it on the piano. It's actually the old one from Coorabell Hall that they were throwing out. It's full of ghosts. I go and sit at it and it gives me a song every time. I have hundreds of instruments. I just have them around so I can pilfer their songs. I even borrow instruments off friends just to steal the songs out of them.'
This is Pyle's second solo album brought to light after being diagnosed and recovering from cancer.
'People think that if you live around here then they can see you play anytime. Well maybe not. I only play Byron about twice a year, and I just had cancer, so maybe not.'
Pyle's not about to use his recent illness to promote his album. Nothing Left to Burn is not about having cancer. But the drive to finish recording and release it was.

'I don't want to be cancer boy – that's not who I am. But it made me finish the album. You've got a deadline. Dead being the operative word.'
Pyle is a prolific songwriter who enjoys the solitude of creating alone.
'I have hundreds of songs lying around that I never do anything with – working alone is pure pleasure, there's no compromise.'
When it came to making this album Pyle wanted to break the rules set by his clients.
'I went out of my way to make it unlistenable. I wanted to use sounds that clients wouldn't accept. I find that people are getting more conservative, so
as a producer it gets boring when people making music want to play it safe.'
There's nothing safe about Nothing Left to Burn. There are expansive soundscapes full of unexpected turns that reveal his fascination with tones generated from superb instruments and amplifiers, bizarre devices and electrojunk. Never one to court radio's fleeting favour, Pyle is more concerned with lasting resonance than the flash of pop fodder. These songs, beautifully conceived, oddly played, are pop music for thinkers, painters, idlers and lovers. The album was recorded and produced by Pyle at his Goonengerry studio.
'I played all the instruments, there is no other human being on it. I left all the doors open – all the stuff I try to stop I encouraged for myself, birds, kids playing, and just general noise.'
After a career where he's been the dude for hire with the instrument, Pyle became his own session muso.
'I would leave my studio and walk back in character, I 'd leave the studio and come back in as the bass player I would have wanted to turn up.'
The album is good. Really good. Full of noise and spaces and even a couple of secret tracks.
The band employed to translate the recorded into a live show are essential oddballs from the Byron hills. Nick Edin, M Jack Bee and Brendan Drinkwater are all consummate players with broad experience and appropriate eccentricities.
Well versed in Pyle's approach to music, they'll tackle it with the proper combinations of gusto, skill and spontaneity.
Supported by M Jack Bee and Sara Tindley, catch Christian Pyle with Nothing Left to Burn on Saturday at the Byron Bay Brewery Buddha Bar at 7pm.
Tix $10 at the venue.
---
Village Jounal
Issue Number: 253 :: May 2010
Audiophiles
Christian Pyle – Nothing Left to Burn
I recently had the unnerving experience of being unable to stop my ipod shuffling. I found listening to Neil Young's Harvest or Cold Chisel's East just wasn't the same when the two orchestral pieces on Harvest (tracks 3 and 7) were next to each other or when the drum fill at the end of 'Standing on the Outside' (track 1, East) wasn't followed by the drum fill at the start of 'Never Before' (track 2). In the old days albums had a track order and you didn't mess with it. Now don't get me wrong, I'm not a vinyl fondling luddite and am quite a fan of the single track download thing but Christian's album reminded me what it is like to listen to an album.
For someone who's day job is making records it is no surprise that Christian Pyle's solo album is a cracker. From his home studio in Goonengerry Christian has produced albums for many local and further afield acts such as Jesse Younan, Renee Searles, Glory B, Billy, Luke Vasella, Jodi Martin, The Re-Mains, as well as his own bands Acre and Ghost Mountain. On this album, Christian does everything – sings, plays guitar, keyboards, drums, bass, some banjo, and (with some engineering help from Michael Worthington) weaves his magic mixing wand to create 13 tracks that are definitely an 'album', not just a collection of songs. In the single track download age Christian remains an exponent of the dying art of album making.
Variety in texture is one of the keys - some tracks start with piano, some with acoustic guitar, some a drum fill, one a wonderful dreamy effected Rhodes. There are the short (mostly) instrumental 'ear fresheners' ('Ryuichi' and 'Green Goblin') placed strategically in the playlist at 7 and 12 and the obligatory hidden track (well actually two spooky tunes fittingly on track 13 if you leave the cd running long enough). There is also the simple dedication to his Dad on the inside cover that gives me an emotional hook into the lyrics that seems to be an underlying theme for many of the songs. The songs are strong and the arrangements focus on supporting the vocal melody lines. Piano and guitar lines are often in unison with the vocal melody. Christian inhabits subtly different characters for each of the vocal performances that seem to embody each song. The rambling delivery of 'School Without Dogs' really suits the nostalgic stream of consciousness lyrics whereas the multitracked vocals of 'Trees and Stone' or 'Ray of Your Sunshine' really fit the singalong character. The chords aren't complex but he does a great trade in the ascending or descending bass line and I've transcribed two examples here to illustrate this very effective device. Both use the B bass note to change between C and Amin and elsewhere he uses the F# bass note as the route between G and Emin. Well worth tinkering with on your next songwriting date.
Matt Hill